Annual Wellness Visits
Medicare's Wellness Programs.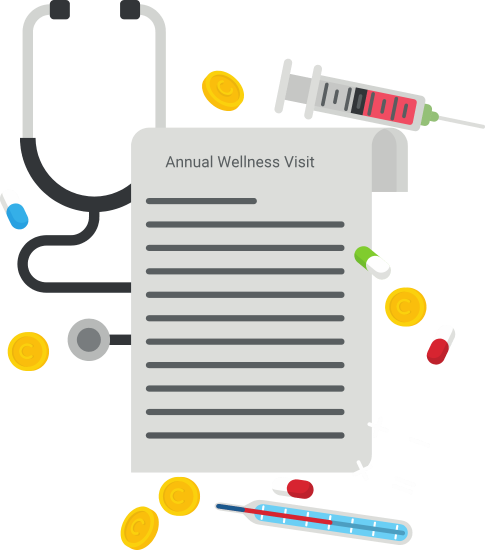 New Approach To Wellness Care.
Streamline Your Wellness Visits
Welcome To Medicare Visit (G0402)
Initial preventive physical examination; face-to-face visit, services limited to new beneficiary during the first 12 months of Medicare enrollment. The reimbursement is around $168.
Initial Annual Wellness Visit (G0438)
This code can only be used for a beneficiary who is no longer within the first twelve months after the effective date of Part B coverage; and if he/she has not already received either an IPPE or an AWV within the past twelve months. Medicare pays for only one Initial Annual Wellness Visit per beneficiary per lifetime. The reimbursement is around $173.
 Subsequent Annual Wellness Visit (G0439)
This code is to be used in the years subsequent to the submission of G0438 for the initial annual wellness visit, even if the patient switches to a new doctor. 
The reimbursement is around

$117.
Advanced Care Planning 

(99497 / 99498)
Effective January 1, 2016, the Centers for Medicare & Medicaid Services (CMS) pays for voluntary Advance Care Planning (ACP) under the Medicare Physician Fee Schedule (MPFS) and the Hospital Outpatient Prospective Payment System (OPPS). If performed during an Annual Wellness Visit, the patient has no Copay. The reimbursement starts at $86.
EHR, Practice Management, Billing Solution, Patient Portal and Self Check-In Kiosk. 
User friendly, and very easy to use. Now you can focus more on patient care.
Specialty Specific EHR. No hidden fees or surprises.